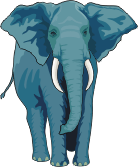 THE TRINITY
THE FATHER
          This is the creator, the one I think of when the term God is used. This is the God of gods. This is the entity no human mind can comprehend. We can only try. This is the God that I am attempting to define in my life. This is the elephant.
THE SON
          I prefer the term: "WORD." Händel

went through the Bible and found many references to Jesus, or the redeemer. He then put these names in his great work: "The Messiah." This is one of the primary ways God chose/chooses to communicate with man. This is the message from God to me. - - to you. This is the elephant.
THE HOLY SPIRIT
          This is the Soul of God. The Holy Spirit or Holy Ghost is sometimes heard, sometimes represented as flame, sometimes as a dove. The Holy Spirit is really evidenced in your soul and not in any physical way. This is God within us. This is the elephant.
THE TRINITY
          I cannot think of the Holy Spirit without pondering the concept of the Trinity. This is a concept that is hard to grasp. Hindus have no problem with this concept. But, Christians are new in the religion game. We still have problems accepting that God is one, yet God is more than one.


footnote:
Georg Friedrich Händel 1685-1759
copyright&copy 2007 George L Snyder